Stovax County 3 Multi-fuel
The charming Stovax County 3 multi-fuel stove features a compact rustic exterior designed to suit both traditional and modern interiors. Incorporating timeless styling including a classic arched window and door bevelling, this delightful stove offers spectacular flame views with Ecodesign Ready performance. Although smaller than the County 5, thanks to its proportions the County 3 is equally suitable for houseboats, summerhouses and garden workshops. Being Ecodesign Ready, this adaptable multi-fuel stove can also be used to burn both mineral fuel and wood. The County 3's internal heat shields allow for lower distance to combustible clearances, and is also suitable for installation with a 12 mm hearth.
KEY FACTS – Stovax County 3 Multi-fuel
Ecodesign Ready
High efficiency up to 78.1%
Energy Efficiency Class A
Multi-fuel (with external riddling)
Approved for Smoke Control Areas
Cleanburn
Airwash
Flat top
Nominal heat output and range 4.8kW (2-5kW)
Maximum log length 7 7/8 " (200mm)
Room vent not normally required
Flue outlet 5" top or rear
Integral Heat Shields
12mm hearth compatible
COUNTY 3 INFORMATION
A :389mm
A1 (GLASS VIEWING AREA) : 191mm
B : 511mm
B1 (GLASS VIEWING AREA) : 201mm
C : 277mm
D : 423mm
E : 558mm
F : 558mm
G : 107mm
H : 125mm
I : 200mm
J : 150mm
K : 137mm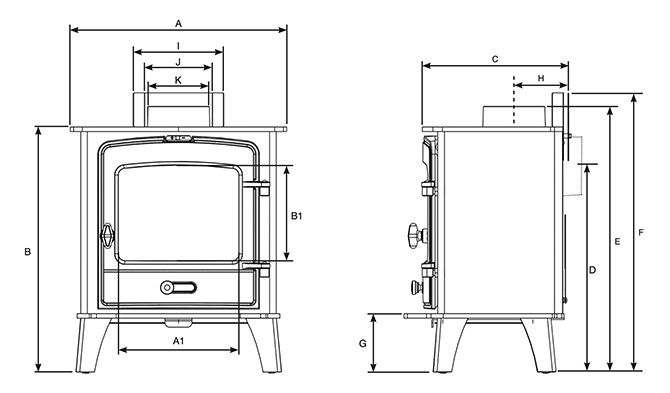 Models included in this range are the Stovax County 3, the Stovax County 5, The Stovax County 5 wide, and the Stovax County 8.