Gazco eReflex 110RW Electric Fire
Equipped with Gazco's state-of-the-art Chromalight® technology at your fingertips, the eReflex 110RW electric fire from Gazco is a new generation designer electric fire that delivers much more than a fireside glow. Using the innovative app or Thermostatic Eco Remote Control, you'll not only be able to turn on or off the heat independently of the display, but have full control over the array of immersive lighting options available, all from the comfort of your sofa.
Designed to be the perfect centrepiece to sit front and centre as part of a media wall, the eReflex 110RW is easily configurable as a single-sided or multi-sided electric fire. To further enhance your space, an optional mood lighting kit is available which can be placed around your TV or shelves, to bathe them in your choice of 13 vibrant colours, or the steadily changing spectrum mode.
KEY FACTS -Gazco eReflex 110RW Electric Fire
Brand Gazco
Heat Output Up to 2kW ambient heating
Programmable Thermostatic Eco Remote control
App control on iOS and Android devices*
Chromalight® LED System
Three different flame options – Amber, Amber with Blue Accent, and Blue
Choice of fuel effects – Oak Log-effect or Crystal Ice Effect
Optional Mood Lighting System
Flame and fuel effect lighting can be enjoyed without heat
Can be easily configured as a three-sided, two-sided, or single-sided fire
Pulsing glowing embers for realism
Up to 2kW programmable heating
Eight fuel bed lighting colours, plus cycling spectrum mode
Ecodesign Energy Saving Features
EREFLEX 110RW INFORMATION
eReflex 110RW
A : 1105mm B : 380mm C : 1123mm D : 1133mm E : 408mm F : 111mm G : 398mm H : 67mm I : 575mm J : 252mm K : 1117mm L : 272mm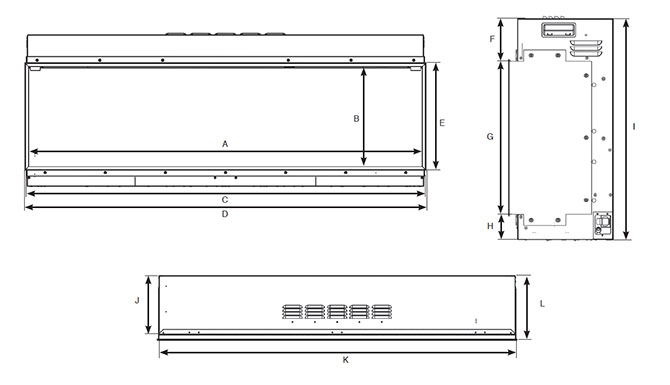 Video –