Onyx Liv 3 gas stoves combine a sophisticated cylindrical design with stunningly realistic flames and log effects. It adds poise and allure to any interior .These elegant gas stoves can create an unmistakably contemporary centrepiece in your home.
Liv 3 Gas Stoves Features
– Heat output: From 2.1 up to 4.5kW
– High Efficiency: CF: 78% / BF: 94.3%
– Energy Efficiency Class: CF: D BF: A
– Fully-sequential thermostatic Remote Control
– EchoFlame Black Glass lining for enhanced visual depth
– Conventional and balanced flue models
– Natural Gas and LPG options
– Optional linerless flue kit (Conventional Flue only-not available until 2022)
Stunning 180° flame visuals
Beyond the sweeping curves and clean lines of this remarkable gas stove, front and side glass panels showcase the Onyx Liv 3's panoramic flames, providing 180° views for maximum visibility. Inside, life-like flame burner technology creates a tall, lazy fire which dances through highly realistic log effect fuel bed.
EchoFlame™ Black glass lining
Within the Onyx Liv 3, the three-sided flame visuals are further enhanced by EchoFlame™ Black Glass lining. It  provides a mirror polished backdrop to reflect the tall rolling flames, lending additional visual depth and definition.
Conventional and Balanced Flue options
Conventional flue and balanced flue options mean that Onyx Liv 3 gas stoves can be installed with or without a chimney. For masonry chimney installations, the conventional flue Liv 3 can be fitted with our linerless flue kit instead of a full chimney liner. This facilitates a simpler and more cost-effective installation. Conventional Flue models not available until 2022.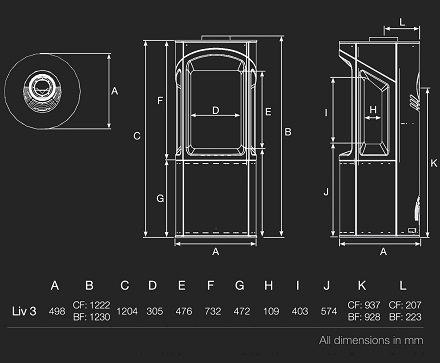 ;