The Stovax County 8 woodburner is a stove that brings presence and impressive flame visuals in equal measure. With an impressive 8kW heat output, the County 8 is a large format stove perfect with enough heat to bring warmth and allure to larger rooms. With a bigger size of stove comes a stunning view of the flames thanks to the wide viewing window, kept clear by powerful Airwash jets. County 8 wood burning stoves are designed to suit both traditional and modern interiors, with a charming and timeless exterior. All County models feature a responsive slide control to adjust airflow for easy heat management, and Cleanburn airflow systems help to minimise emissions. The County 8 is available as a dedicated wood burning stove, which has achieved the Ecodesign PLu mark.
KEY FACTS – Stovax County 8 Woodburner
Ecodesign Plus
High efficiency up to 77.8%
Energy Efficiency Class A
Dedicated Woodburner
Approved for Smoke Control Areas
Cleanburn
Airwash
Nominal heat output and range 8.3kW (4 – 11kW)
Maximum log length 13″ (330mm)
Room vent not normally required
Flue outlet 5″ top or rear
Integral Heat Shields
Matt Black Finish
COUNTY 8 INFORMATION
A : 603mm
A1 (Glass Viewing Area) : 376mm
B : 621mm
(Glass Viewing Area) : 263mm
C : 396mm
D : 516mm
E : 667mm
F : 697mm
G : 150mm
H : 135mm
I : 204mm
J : 165mm
K : 162mm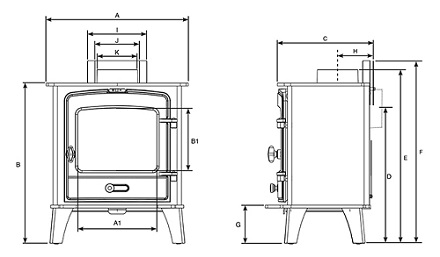 Models included in this range are the Stovax County 3, the Stovax County 5, The Stovax County 5 wide, and the Stovax County 8.