Helsinki Fire Surround
Marfil Stone Surround.
Pictured with black granite hearth, back panel and Insert Stove.
Available in 54" Marfil Stone, Black Granite, Perla White, Ivory Pearl, Portuguese Limestone, Italian Marble & Agean Limestone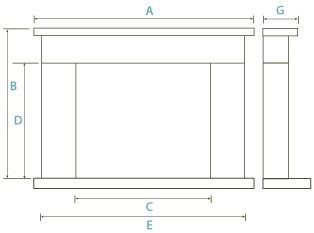 Helsinki Fire Surround
A             1370
B             1123
C             915
D             913
E              1295
Rebate 75
G Shelf Depth    190
Dimensions are approximate and are subject to change without prior notice. Please double check all measurements with us.